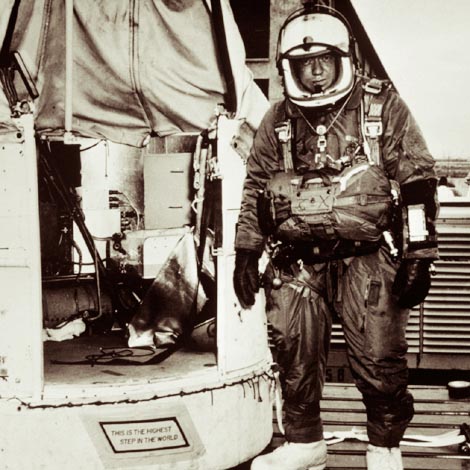 On April 12, 1961 Russia made history by sending Yuri Gagarin into space in Vostok 1, having him orbit the Earth once, and then successfully land back on Earth. At least that was the official story at the time. In reality, he parachuted from his capsule at a height of 7 km above the Earth, successfully landing ten minutes after the capsule automatically touched down. Since most skydiving happens in the 1-1.5 km range, this jump is noteworthy in itself. Yet while this is a remarkable feat of parachuting and deception (the truth about the flight was hidden for many years), the world record is more than 4 times higher and was set eight months earlier.
In the 1950s, the United States Air Force was developing more advanced jet engines and the beginnings of the Space Race were afoot. Not wanting to lose astronauts or test pilots due to malfunctions, they sought to find a safe way for them to escape and return to Earth. This lead to the creation of Project Excelsior in 1958, lead by Captain Joseph W. Kittinger Jr. as test director. Under this project, Mr. Francis Beaupre designed a parachuting system that would first stabilize descent and then slow it, all being automatically deployed at the appropriate heights. With a general lack of funding, the tests would take place out of a balloon gondola like the one pictured above, the words "This is the highest step in the world" written on the plaque.
On November 16, 1959 Captain Kittinger ascended to just over 22 km and got ready to jump. His seat contained water bottles encased in styrofoam as a cheap way to maintain his body temperature during the ascent, but they froze on the way up and expanded, holding his instrumentation kit to the seat. It took him eleven seconds to get up and during this time he accidentally triggered the timer for the stabilization chute, before he even left the gondola. When he began to descend it deployed after 2.5 seconds after he left instead of the intended 16, accidentally wrapping the main parachute around his neck in the process. He started to spin uncontrollably and eventually lost consciousness. Unable to do anything he plummeted toward Earth and at 1.8 km his reserve shoot successfully deployed, saving Kittinger's life.
The second jump was less than a month later on December 11, 1959. The main purpose was to work out the kinks found in the first jump, such as repositioning the water bottles and adding in safeguards to prevent another accidental start of the timer. Captain Kittinger bailed from the gondola at just under 22 km and landed without incident twelve minutes and thirty-two seconds later. This data was used to set up a third jump from more than 30 km.
The third and final jump happened on August 16, 1960 from a height of 31.3 km. It took one hour and forty-three minutes for the ascent. Once he left the gondola, he quickly fell back to Earth (footage can be seen here, set to "Dayvan Cowboy" by Boards of Canada). It took only four minutes and thirty-six seconds to plummet 26 km with only his stabilization chute deployed; it would take another nine minutes and nine seconds before he travelled the last 5.3 km with his main parachute deployed. This remains the only human space jump from more than 30 km.
Today's Tangent: Joseph Kittinger isn't finished setting records though. In 2005, Red Bull created Red Bull Stratos, a project designed to break Kittinger's record from 1960 by going to 36.5 km. It wasn't until 2008 that Kittinger joined as an advisor, and since then the test pilot, Felix Baumgartner, has made several test runs up to 29.5 km. They're scheduled to meet their goal in the first half of October 2012.