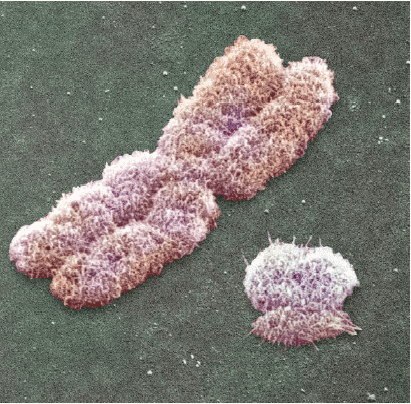 When it comes to survival of the fittest, humans have effectively stepped out of the food chain and have the technology to dine on anything. We're able to take down any predator and have the science to combat almost any disease, making us effectively safe from any external threat. But when it comes to trying to keep our species alive, our biggest biological threat might not come from another species, but from a battle of the sexes. There's some evidence that men might go extinct.
Gender in humans is based on our X and Y chromosomes; women have two X chromosomes while men have one X and one Y. This Y chromosome is critical in men because it controls all the male aspects required for reproduction: the development of testicles and sperm, and it can only be given by a father to his sons. Without the Y chromosome to carry this genetic information, our species would lose its male population, and with it the ability to reproduce. Unfortunately, some scientists think that could happen due to many causes, such as high mutation rate, inefficient selection, and genetic drift.
Going back about 300 million years, the X and Y chromosomes each had the same number of genes at 1438. Today the Y chromosome has only 45 (you can see their size difference in the picture above, courtesy of Exit Mundi). If we model this as two points on a line, the Y chromosome will lose its last gene in roughly 10 million years. It could even happen faster given that the Y chromosome doesn't always select the best and "fittest" specimen to continue. In fact, roughly 1 in 2000 men will be rendered infertile by defects in the Y chromosome. Why is this troubling? The only way for a man to get their Y chromosome is from their father, meaning that all of those men with defective Y chromosomes didn't inherit it – they became infertile during their lifetime.
Of course, it might not be as bad as once thought. By looking at the divergence of chimpanzees and humans which occurred roughly 6 million years ago, scientists have found that the Y chromosome lost none of its genes during that time, meaning that it must have lost them before and slowed its loss to a stand still by now. Going back further to when humans and chimpanzees diverged from rhesus macaque 25 millions years ago, we find that only one gene was lost over that time. While all this means it's not a gradual decay, it still raises the question: what happened to Y in the first place, and can it happen again?
Today's Tangent: When it comes to Adalia bipunctata, a.k.a. the two-spotted ladybug, some populations are heavily female dominated, outnumbering males 4:1. But it isn't because of genetic mutations: here bacteria actually kill off males when they're in eggs. Why? Since the bacteria can only exist in the female reproductive cells (it's too big to live in the male's sperm), it would die in a male without being passed onto the offspring. Instead, it kills the male eggs so that the females have more food, giving them a better chance of survival and thus allowing the bacteria to infect the next generation.