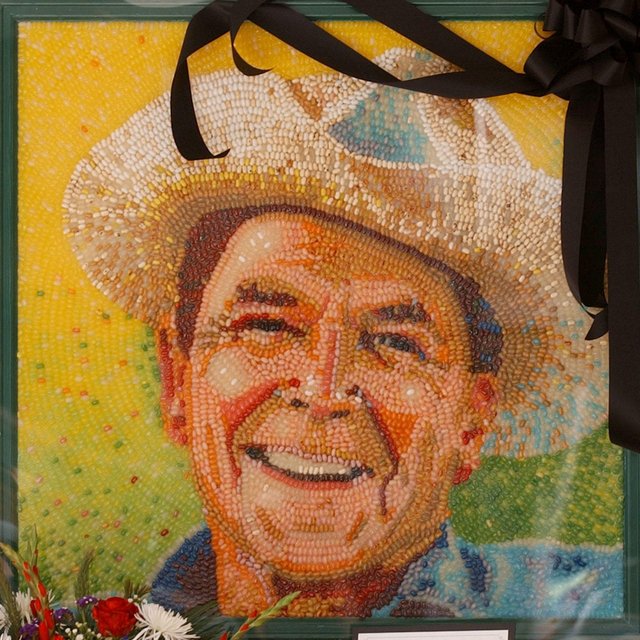 My Tuesday Tidbits went on an unannounced hiatus for two weeks due to other obligations, such as the talk I did for Ignite 10. I'll be writing up an article on my experiences leading up to my presentation and on the night, so look for that later this week. – Travis Gerhardt
During wartime lots of things become scarce: metal, meat, sugar, gasoline, and even chocolate. For the United States in World War II, chocolate was sent to the troops leaving those at home looking for something else sweet. It is because of this shortage that they turned towards jelly beans and other confections, helping to broaden the different candies available and ensuring that jelly beans would be around for generations. But there's a lot more to jelly beans than just a wartime treat, and to tell that tale we need to visit Turkey more than two hundred years ago.
While the exact origins of Turkey Delight are unknown, the modern day version of the sweet was first found in 1776 in Istanbul, Turkey. It was at this time that Bekir Effendi, a confectioner from Anatolia set up a small shop there and started to sell his new confection. Unfortunately information around this event is scarce but we can piece together some things. It seems as though an ancestor of the treat existed back in  1626 as Francis Bacon wrote about similar sweets from Turkey:
They have in Turkey and the East certain confections, which they call servets, which are like to candied conserves, and are made of sugar and lemons, or sugar and citrons, or sugar and violets, and some other flowers; and some mixture of amber for the more delicate persons: and those they dissolve in water, and thereof make their drink, because they are forbidden wine by their law.
Bekir Effendi took this treat and made it softer and covered it in a liberal amount of icing sugar. Legend has it that he presented this sweet to the ruler Abdul Hamid I after he was commissioned to make a new confection; it quickly became a coveted dish and was associated with royalty. Eventually a Briton discovered the delight and brought back crates of it to England, reselling it under the name Turkish Delight. From there it made its way over to the United States and near the end of the 19th century was turned into the jelly bean.
The jelly bean was created by taking the jelly of a Turkish Delight, shaping it into a bean, and coating it with a soft shell of sugar. The coating is added in a method called panning where the centre of the candies are put in a open container that is partly filled with syrup, and then they are rolled allowing the candy to be coated evenly as the shells slowly harden. Since Turkish Delight came in multiple flavours, early jelly beans shared this trait and experienced great success during the penny candy craze of the time.
In the early 1900's, the penny candy craze subsided in favour of everything chocolate. It wasn't until World War II that jelly beans and other non-chocolate treats resurged. Then in 1960,  the small Herman Goelitz Candy Company decided to change from primarily producing candy corn to multiple other confections including jelly beans and the United States' first gummi bears. These jelly beans caught the attention of then Governor of California, Ronald Reagan, who would end up eating them through his two terms in office, famous writing "we can hardly start a meeting or make a decision without passing around the jar of jelly beans."
In 1976, David Klien had an idea for jelly beans of unusual flavour and top notch quality, and pitched his idea to Herm Rowland, then owner of the Herman Goelitz Candy Company. Using the Goelitz company as a distributor, Klien created the Jelly Belly brand and launched with eight initial flavours including root beer and cream soda, flavours that had never been made into jelly beans before. In 1980, Klein and his business partner sold Jelly Belly and all the associated trademarks to the Herman Goelitz Candy Company for $4.8 million.
Around this same time, Ronald Reagan became President of the United States and with his presidency brought Jelly Belly jelly beans to the Oval Office and on Air Force One. He went further and asked for a blueberry flavoured jelly bean so he could serve red, white, and blue ones at parties he hosted. Then in 1983, Reagan sent Jelly Bellies to the astronauts of the space shuttle Challenger as a surprise. Throughout his eight years as president, he continued to have the jelly beans as a snack, helping to launch the Jelly Belly company into further financial success. Because of this huge influence, a portrait of the former president (shown above) made out of jelly beans hangs in the Jelly Belly visitor centre in Fairfield.
Today's Tangent: While we may know them as Turkish Delights, the Turks definitely don't call them that. The original word for these treats were lokum, which now translates from Turkish to English as Turkish Delight. However, not all translations are as simple. In Romanian the word is rahat which is a shorting of the Arabic translation rahat ul-holkum. Interesting, the Romanian rahat took another meaning, roughly translating to shit in English. I'd say that English got the taster of the two translations.